About Electric Bicycles
Electric bicycles, or e-bikes, are a revolutionary mode of transportation for commuters suffering from high gas prices.
Thanks to recent innovations in battery technology, new electric bicycles offer unprecedented range and flexibility. The combination of pedal-assist and on-demand power allows commuters to ride to work without breaking a sweat. No longer must you dread the occasional hills or head-wind. The electric bicycle lets you glide comfortably about town for forty miles on a charge.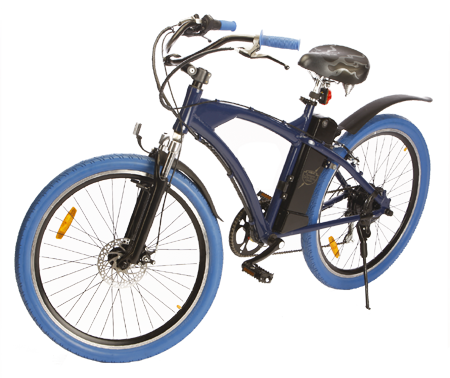 The 36 volt Lithium Iron Phosphate battery and 250 watt brushless hub motor are integrated into a pleasing cycle design that seems both novel and familiar. It is operated like any bicycle, with the rider receiving an additional boost while pedaling. With a twist of the throttle, the bike zooms to a maximum 20 mph under it's own power.
Still considered a bicycle under federal law, the ebike does not require licensing or registration, and is permitted anywhere bicycles are allowed. As the Twin Cities are ranked among the most bicycle-friendly cities in America, the electric bicycle is the perfect way to take advantage of our extensive system of bike paths and lanes.